The right word may be effective, but no word was ever as effective as a rightly timed pause. - Mark Twain
At the end of our lives, we do not regret the things at which we failed, we regret the things we wished for but never attempted. - Richie Dayo Johnson
Speech is power: speech is to persuade, to convert, to compel. - Ralph Waldo Emerson
Temiloluwa Awonbiogbon strongly believes that life can only truly be called life when everyone finds their place and fills it. He is a consummate public speaker, actor and writer with a bias for leadership, entrepreneurship, nation building and development. He is also an advocate of personal development as a success tool.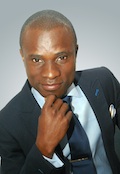 He is immensely passionate about acting, writing and public speaking with more than a hundred poems, acting roles in several stage plays and a few television productions to his credit. He also has several years' leadership experience in both secular and faith based organisations.
He was one of four finalists in Season 1 of the GTBank-sponsored Reality TV Show, 'The Debaters', unarguably Africa's first oratory based Reality TV show, where he had the opportunity to contribute positively to the discourse on various matters of national and international significance before an audience of several million people across Africa and beyond.
His interests in public speaking include but are not limited to offering master of ceremonies services to clients both corporate and individuals, giving presentations at conferences, lectures, seminars and conventions; doing voice-over jobs for TV and radio commercials, anchoring TV programmes etc.
He has introduced foreign government officials, several former and serving members of the nation's National Assembly, state governors, serving cabinet ministers, other top government officials as well as countless corporate executives.
He enjoys reading novels, newspapers and magazines; writing poems, speeches and articles; singing and listening to music, acting and dancing in his spare time. His favourite personal saying is: 'Whatever you do, give it your best shot as only the best is good enough'.
He maintains a personal blog at temiloluwa.com, which attracts a considerable following where he writes on a various number of issues and subjects.
Connect with Temiloluwa on: